What goes on with contemporary jewelry in Estonia: interview with Ketli Tiitsar
Estonia's «jewelry background» is very similar to ours. At Soviet times, its jewelers dealing with precious metals were restricted quite as much as in Russia. Mass production did not leave much choice to consumers. And artists working in avant-garde and other contemporary styles emerged in both countries, with their works disappearing in the museums archives.
Close networking between artists got ruined together with the Soviet era. Busy with our own problems and lack of contemporary artists' community, for many years we lost site of what's going on in Estonia as well as other countries. However, in today's interconnected world there is totally no way to develop «on your own». Maybe, it is the time to look around and try to get back what was lost?
Interview with Estonian jewelry artist KETLI TIITSAR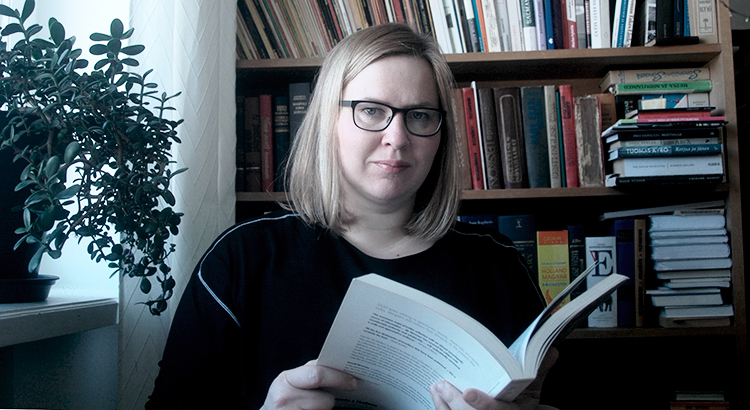 Ketli Tiitsar — a jewelry artist from Estonia — currently is the program manager and also curator for the jewelry and metal art collection of ETDM (Estonian Museum of Applied Art and Design) in Tallinn. She was very kind agreeing to answer all our numerous questions about the current situation with jewelers and jewelry art in her country. In the interview we mostly concentrated on artists who develop their careers right now — young artists and generation that went to art academy after the collapse of Soviet Union.
Ketli, could you please tell about yourself? Have you always dreamed of making jewelry or being an artist?
I grew up in Tallinn in 1970-s, in an old private house with a large garden. My father made all things by himself, and used to collect everything that had reusable value. Therefore I guess mentality that any material may be reused was planted into me.
When I was around 10-12 years old, I started to make all kinds of projects in father's workshops starting with wooden shoes, baskets, shelves, leather jewelry, ceramics and wood, and getting to hammering and drilling Russian coins and old keys into jewelry.
Then I attended children's art school, and high school with applied art focus. We had painting, drawing, but also ceramics, leather art, book binding and metal work classes.
At that time it was more common for girls to choose textile classes, but I entered the boys' metal works group, and my first metal jewelry pieces there were made of aluminum camp-cot tube-legs, which I had to hammer into flat sheets first.
In the last year of secondary school it felt quite clear to me that I was into metal and jewelry making. In 1991 I entered Metal Art department of Estonian Academy of Arts, where I received BA in 1995 and continued Master of Arts studies straight after. Also for a short period I was studing  in National College of Art and Design in Oslo and in Amsterdam's Gerrit Rietveld Academy.
What was going on with your career after graduation?
After studies, in 1996 we formed the group «F.F.F.F.» («Fun For Five Female», with Kristi Paap, Kaire Rannik, Berit Teeäär, Ketli Tiitsar and Maria Valdma — currently all the members are active in jewelry field, except Berit) which split in 2005. Nine years of our activity included works from installations and photography projects to curating and designing exhibitions. Very intense time that we spent together.
«F.F.F.F.» dealt not only with creative collaboration. Its projects also involved the basics of project management, the knowhow which little by little became another important part of me. Of course, I and others continued with our individual jewellery practices as well.
FFFF, «Our daily bread» (jewelry was displayed in an old baking trays). 2002 Hansa Bank Gallery, Tallinn: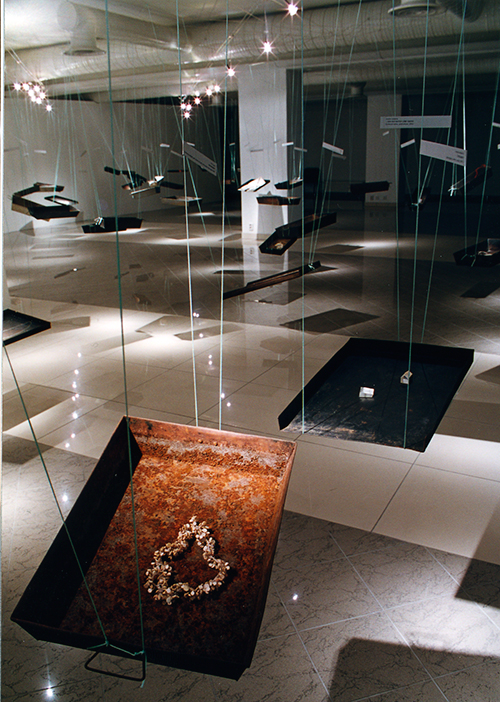 FFFF, a project F-Files (10 photos dealing with different female identities), 1998, from the collection of Estonian Art Museum: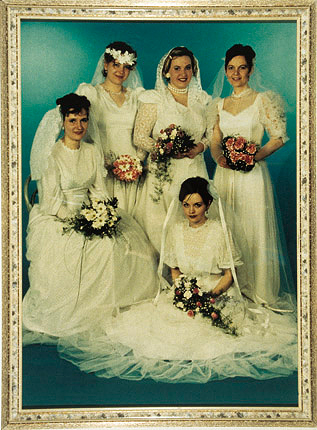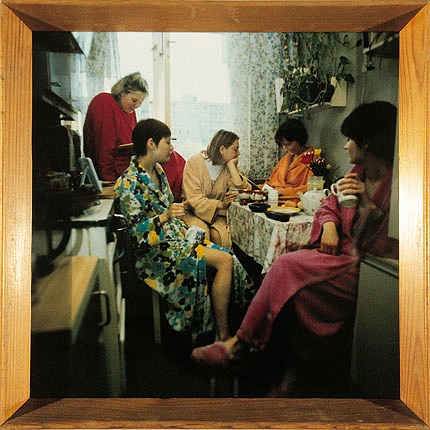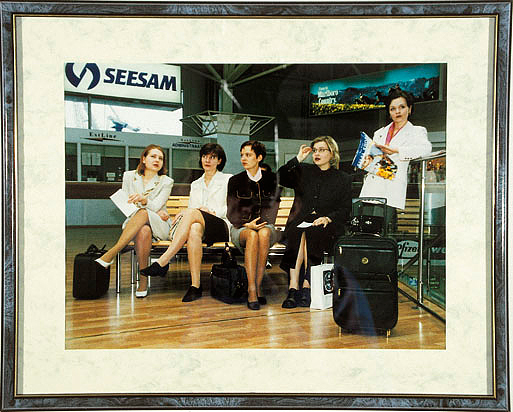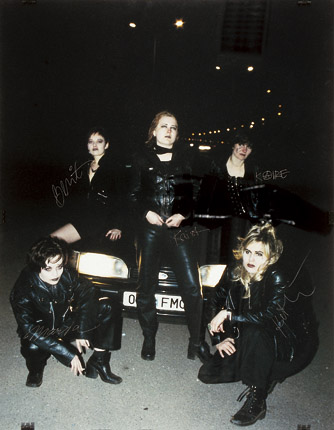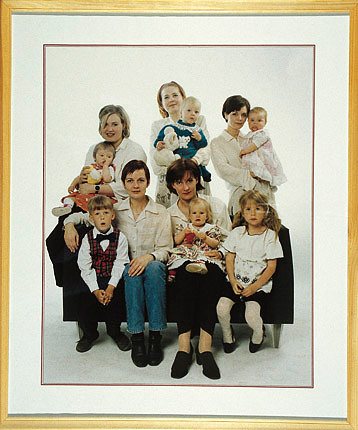 In 2002, after several years of employment as gallerist for the Estonian Academy of Arts, I was proposed to work in the Estonian Museum of Applied Art and Design (ETDM). This is the place where I work by now.
Working in the museum is most versatile. As it is a small museum, we all have to deal with many different tasks. My work gives me a special advantage of seeing the collections from up close, and opportunity to study the time-related and individual particularities of applied art in Estonian jewelry art and applied art in general.
It is interesting, that during the time I have worked for the museum, attitudes toward the Soviet-era Estonian design legacy has changed. Exhibitions compiled by the museum's curators have contributed to the change since they shed light on people's everyday lives. We could see the authors behind objects found in our homes and in the homes of our parents and grandparents.
These objects and topics, familiar for me too from my own childhood, are perhaps the strongest link and inspiration between the museum and my own works. But mostly when I enter my studio, I try to completely detach myself from the collections and museum themes – to the extent that this is possible.
In the museum but also apart I have been lucky to work with big exhibitions and events, both international and local. I may say that I am addicted to big exhibitions and it has turned to become my passion. Since 2002 until 2015 I was also the main organizer and chair-person of Tallinn Applied Art Triennials.
Have you managed to make your own jewelry, taking into account all your other projects?
Yes, all that time I was making jewelry too. During my studies as well as after graduation I worked a lot with customers. But after a while I realized that it was not working out for me.
Pleasing people and adjusting their wishes with my vision did not always work out as I wanted, and this left me troubled. Therefore quite naturally exciting activities with organizing different exhibitions turned into my job to support my artistic activities.
Now from time to time I do like to make tiny series or take in few commissions. Freedom in developing my own body of works, curiosity and excitement that involves research, hard effort with joyable process — all that gives me real satisfaction.
How would you describe your art works and your vision?
I see myself working with memory, both personal and collective. Materials that I choose also represent memory.
I use wood as the principle material which is still very common in our everyday lifes. Just think how many work hours it takes to turn wood into kindling, and how much of it is manual labor.
Making jewelry resembles activity from my childhood that had to be done every year without fail. I collect, dry, saw, sand and re-assemble wood in a different order. I look for a way to express myself without specific motif, ornament, using interference patterns and harmonies arising from deconstructing the material.
The works by Ketli Tiitsar:
Tiger in the Living Room, 2013. (1)  brooch (apple wood, juniper, silver, paint), (2) necklace (cherry wood, silver, paint, viscose), (3) brooch (apple and birch wood, mahogany, silver, paint):
(3)  Nature Morte. Brooch (I), 2015. Almond wood, paint, silver. From the collection of Röhsska Museum, Sweden. (4) Nature Morte, brooch (IX). Plum wood, paint, silver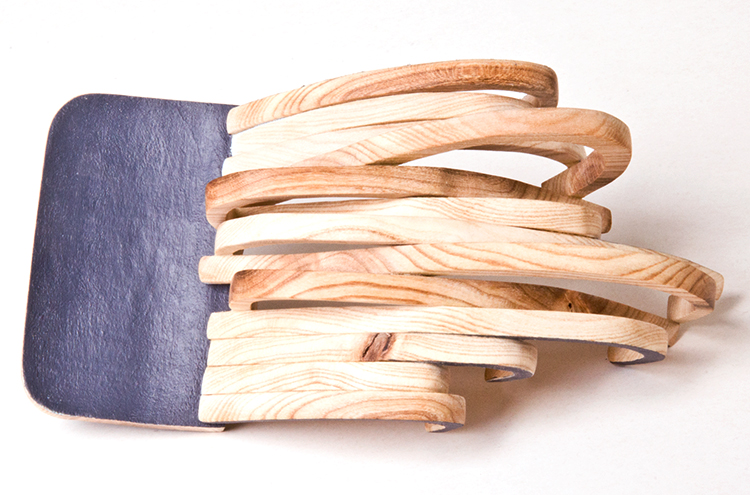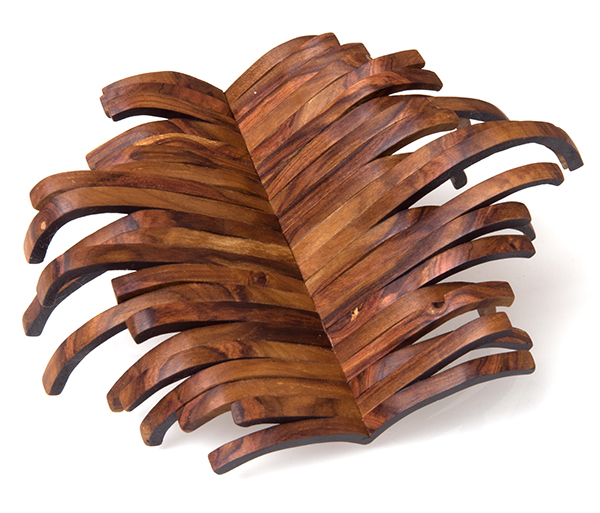 (5) Second Nature. Brooch (III), 2016. Maple wood, pigment, silver. (6) Homesickness VI. Brooch. 2008 Birchbark, plywood, silver, paint, cotton thread
In your blog I found a phrase: «With jewelry I'm interested in relations between seemingly incompatible things». What happens when you match something?
Often I use daily life objects or very common materials, such as wood, for my jewelry. I am interested in what happens when somebody wears family candleholder chopped into small pieces for a necklace? Or what happens when I take woodcut — clumsy, cheap copy of a well known classic, and use it as a material, cutting it into 16 pieces and making jewelry out of it. I think jewelry has to raise curiosity and create stories.
Now let's talk a little about contemporary jewelry "market" in Estonia. Honestly, we don't know much about it. 
In Russia golden jewelry and classic styles are still popular. Jewelry is often considered as a status thing, though situation is changing. How would you describe preferences of Estonian women?
A fine goldsmithing works made out of precious metals and stones is also appreciated in Estonia, and there is nothing wrong with it.
I must admit I do not know much about commercial jewelry and people appreciations around it. But today's artists that combine traditional jewelry materials with «contemporary taste» and innovative technologies make very interesting works. For example, Anneli Tammik who integrated 3D-printing and casting into her jewelry, or Gvido Valickis, who combines damascus steel with precious metals and stones.
If you come to any formal event in Estonia, you'll quite probably see ladies wearing jewelry collections by Tanel Veenre, Lisa Kröber, or works of artists from older generations such as Katrin Amos, Ülle Kõuts, Jaan Pärn, Kaie Parts and many others. Art jewelry became much more visible at these events.
Lisa K (Lisa Kroeber Jewellery), photos on celebrities, by magazines Tiiu, Kroonika, Hello-press: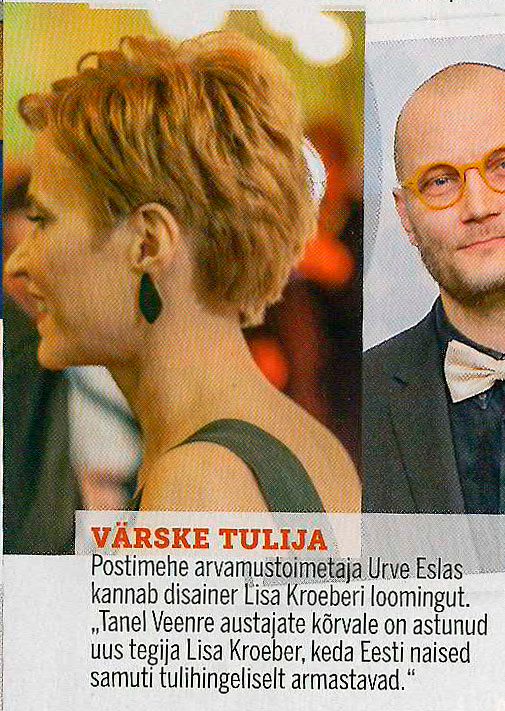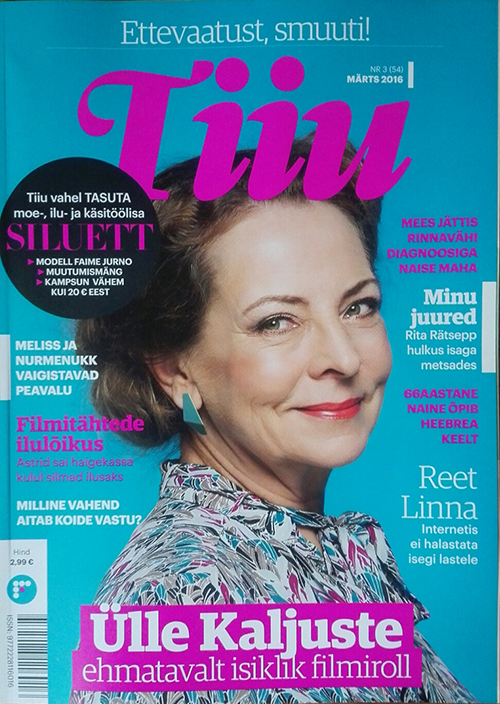 Video — a singer from popular folk band «Curly Strings» wearing Lisa Kroeber earrings:

Some Estonian jewelry artists launch small jewelry series which have been inspired by their main body of works. They become really popular and appear on the editorial pages of magazines quite widely.
They also sometimes collaborate with small fashion lines and design studios, like Tanel Veenres with Embassy of Fashion, Ettel Poobus with Marimo Boutique, recently Birgit Skolimowski with Iris Janvir.
Jewelry factory Juveelitehas, well known among Estonians, last year has launched a new brand called Lummus. It is mainly made out of silver, and was designed by Birgit Skolimowski, Krista Lehari and Gvido Valickis.
In the past, «design» and «craft» markets used to be strictly separated. Nowedays, due to their unique qualities these series of  jewelry pieces are very welcomed into design field and appear at attractive life style events whith large audience. It made these artists to be well-known, and their works available for wide audience.
The works by Tanel Veenres:
(1) EAR BERRIES series ph, TVJ by Tanel Veenre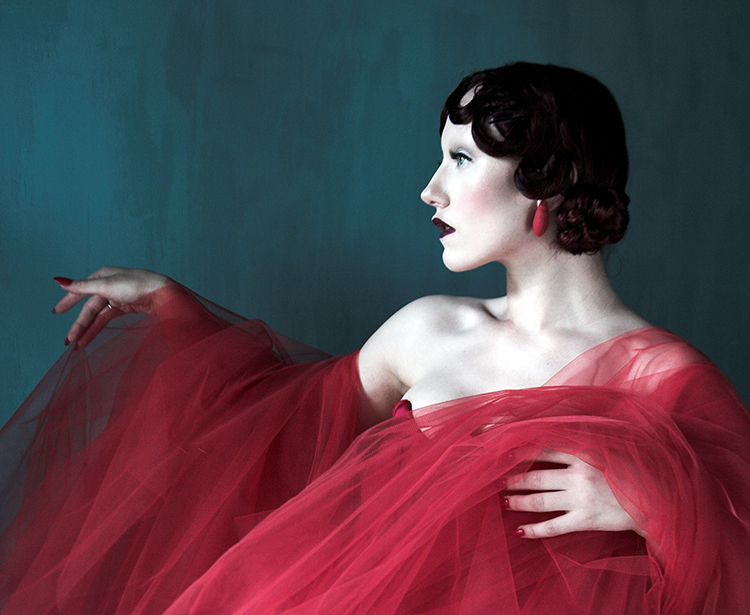 (2) TVJ GINKGO series ph,Tanel Veenre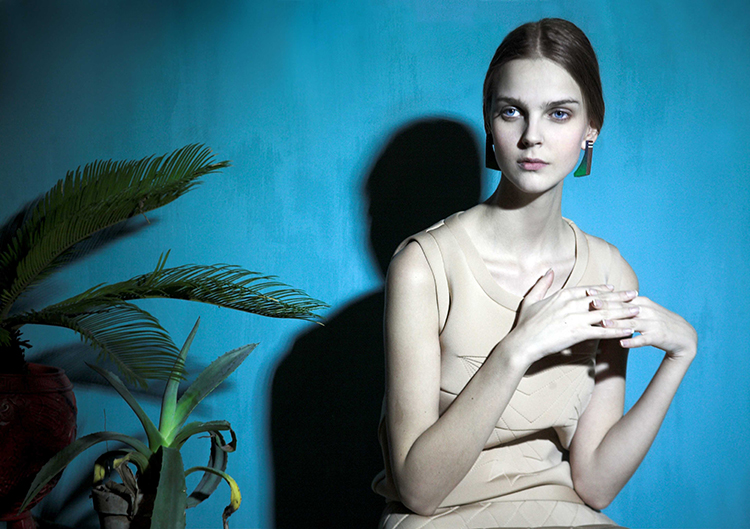 (3) TVJ HIPPOCAMP, earrings, onyx&carneol, winter 2015. (4) TVJ Pantone Flies, 2016
Would you say that contemporary jewelry is in demand in Estonia? Do people buy not ordinary jewelry peaces?
I wouldn't state that art is in real demand (except artists' small series of jewelry). But for sure, Estonian contemporary jewelry lives very vivid and interesting life. It starts to be more recognized both locally and internationally within global jewelry circle.
As I already mentioned, artists who make limited series of jewelry with more "wearable" approach may be found in most Estonian magazine pages. Public figures wear their works, and artists become celebrities.
But when it comes to art jewelry in the sense of artists' continuous practices, conceptual thinking or experimenting with material, it needs much more work to introduce it to wide audience in Estonia and elsewhere. We have few collectors in Estonia appreciating works of certain artists. Contemporary jewelery is not regularly available, even though A-Gallery offers broader choice then galleries that focus more on traditional jewelry.
There is never too much coverage in press — stories about the classics of the field, artists exhibitions in the magazines and papers. Of course social media give a wonderful  and accessible ways of promotion for the artists.
How strongly has situation changed comparing to Soviet times?
Quite radically, as today we have no censorship. It is even hard to imagine that in past years, working with precious metals was strictly limited by state.
But even under these restrictions, artists were making work reflecting their personal views and time. Look at the pioneers of Estonian art jewelry like Haivi Raadik, Leili Kuldkepp or Rein Mets.
I also feel important to tell about Kadri Mälk, the professor of jewellery and blacksmithing departement in the Estonian Academy of Arts. She is one of most internationally recognized artists as well as dedicated teacher, who has managed to get international artists, curators and collectors to come to Tallinn to teach students. This all has given remarkable kick to the scenery. Her work as an artist and as a teacher requires a separate article.
Today's artists have limitless freedom of expression. They may study and show their works any place or country they can afford. This is the biggest difference comparing with Soviet times.
But openness creates new threats. Often one cannot differ if you have actually seen the pieces by certain artists, or you have «seen» them just «in internet». Accessibility and overflow of information affects people's decisions to attend shows and meet artists in person.
All the following works are from the collection of ETDM, photos by Ivar Veermäe.
Kadri Mälk, Resistance III. Olivia 1997. Wood, silver, iron, gold, rubber, black coral, smoky quartz, peridot, moleskin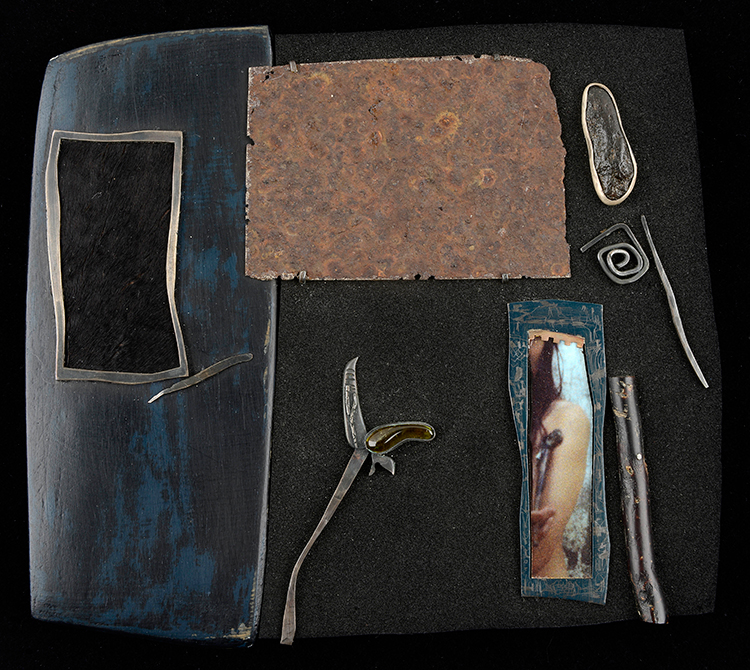 Rein Mets, (1, 2) Necklace "Angela", 1972, silver iron nails, (3) Necklace "Renessans. Estonian Coastline I", 1988, Silver, gold and pebble
Haiti Raadik, from the collection of ETDM, photos by Mihkel Valdma, (1) Necklace "Sheeps" 1976, silver, nephrites, (2) Necklace "Lily of the Valley", 1973, Silver, nephrites:
Leili Kuldkepp, (1) To a great Andalusian 1990. Jet, gold, silver; (2) Three handfuls of flax. 1987 Mammoth tusk:
What about places to exhibit or sell art jewelry in Estonia? Where can people find contemporary jewelry art objects?
Unfortunately, we so far do not have a gallery that would be fully devoted to contemporary art jewelry. But there are few that exhibit jewelry art from time to time, together with other things.
In Tallinn, these are:
A-Gallery that represents works from more than 70 professional metal and jewellery artists from different generations, all the works are for sale. They have a small exhibition space-Wault, where monthly new exhibitions are organized.
Hop Gallery as one of 4 galleries run by Estonian Artists' Association. Gallery is focused on exhibiting applied art and design practices
Estonian Museum of Applied Art and Design (ETDM)- upcoming permanent display of applied art, including jewelry, and its «Staircase gallery», which takes in approximately 2-3 solo exhibitions annually in all the fields of applied art and design
Design Markets held by Design Centre in the Kultuurikatel ("Cultural Factory") is a new initiative by «Tallinn City» — former factory building renovated for the purposes of cultural activities (desing center on facebook).
Jewelry artists are very innovative in finding new places to exhibit their works. For example, group "Castle in the Air" has organized their exhibition in an old light house, and Gram Studio artists arranged their show in the specially built green house in the middle of the Old Town and later on a huge field, in the middle of forests.
Gram Studio Around the Corner at Mardu, photos by (1) Sven Tali, (2, 3, 4) Ketli Tiitsar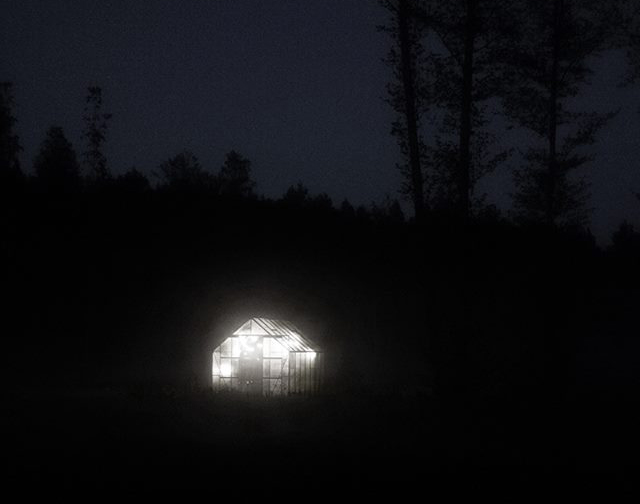 Last five years also gave a real boom to so called 'design shops', e.g. Estonian Design House, NuNordik, Tali. Also the auction site Osta.ee has a special section for Estonian contemporary design.
Many of the younger generation artists sell their work through above mentioned channels.
Design markets are also often arranged, especially during Christmas and in the early summer times. ETDM also provides space for designers in its courtyard during the "Old Tallinn Days". These events are popular and loved by many people. Usually they get crowds of visitors — giving an excellent opportunity to promote and sell artists and designers small series.
What goes on in the field of international exchange for Estonian artists?
Artists have been very active in finding different channels for presenting their works. They take part in exhibitions, send their work photos to galleries and curators, exhibit in Estonia, make good documentation and spread it to social media and relevant webpages. What is currently very positive is that many of them are represented by different contemporary jewelry art galleries in Europe, States and Asia (some by several galleries). For example, Tanel Veenre by Gallery Platina, Ornamentum and others, Maarja Niinemägi by Charon Kransen Arts, Julia-Maria Künnap by Gallery Sienna-Patti, Kristi Paap by Gallery Loupe, Nils Hint by Gallery Ra and Four, etc.
Aiming to promote exhibitions exchange, ETDM is showing to its visitors the local and international movements and overviews within applied art and design landscape. Results are exibitions, such as:
«Think Twice: New Latin American Jewellery», or
«From the Coolest Corner» — Nordic New Jewellery,
as well as our museum serie of retrospective exhibitions called Classics, where Estonian jewellery artists such as Lilian Linnaks, Leili Kuldkepp, Rein Mets have been presented.
What I have tried to do is to cooperate with the Estonian Academy of Arts as well as with jewellery artists. I curated satellite programs for these big exhibitions, including small exhibitions, performances, workshops, artists talks and studio visits. I believe this all together makes jewellery more visible for broader audience.
The exhibition «From the Coolest Corner — New Nordic Jewellery» in ETDM, 2014. Photos by Jarmo Nagel: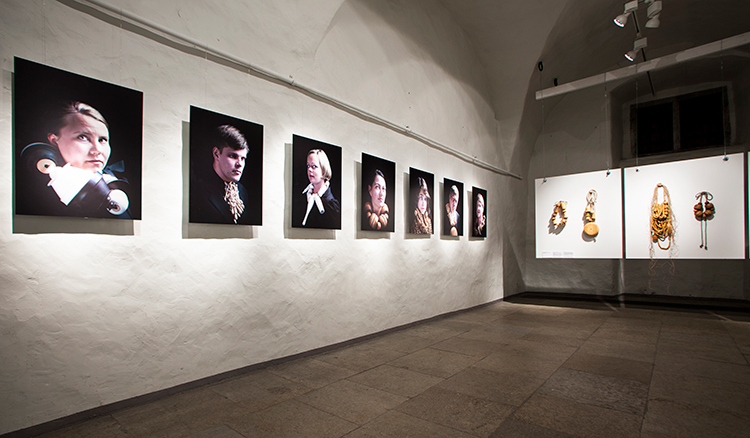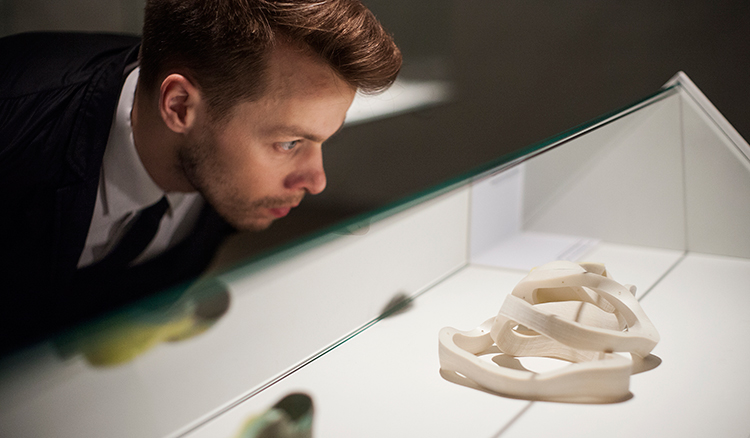 Works by Estonian artists, from the collection of ETDM.
(1) Julia Maria Künnap. Brooch. Is This the Happiness, 2012. Smoky quartz, gold. (2) Urmas Lyys. Brooch. Autumn Ball, 2014. Recycled steel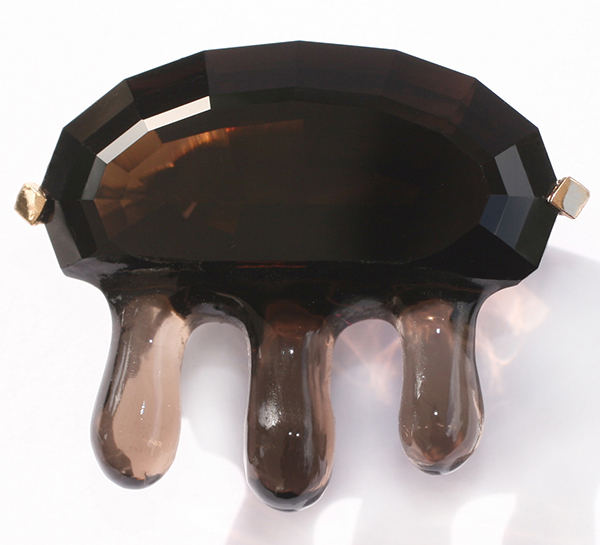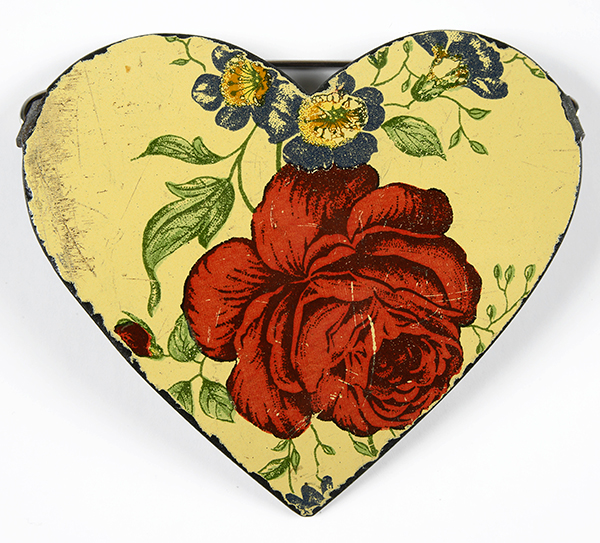 (3) Nils Hint. Necklace, untitled One, 2010. Steel, gold. (4) Kristi Paap. Brooch from the series Clover. 2012. Cherry stones, cherry wood, paint, thread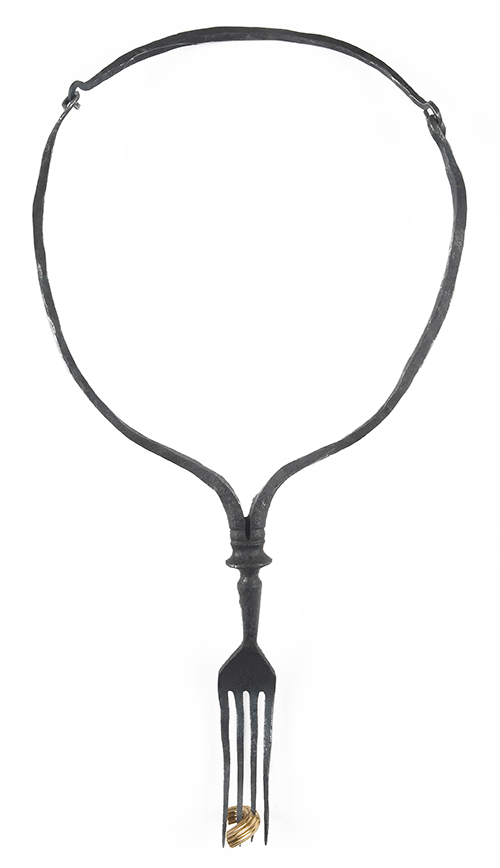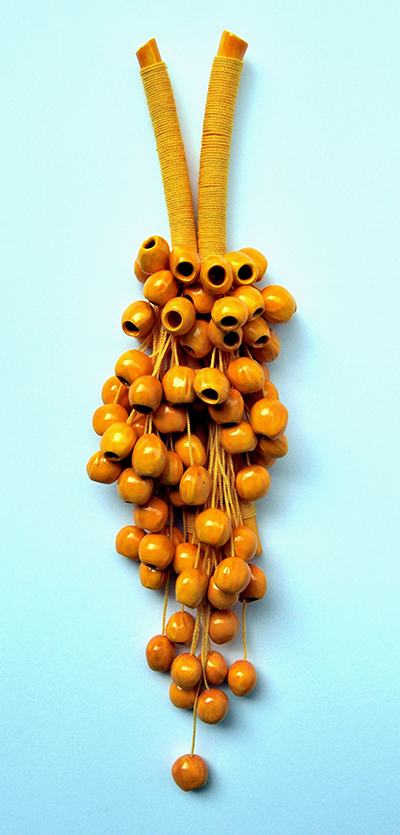 Which countries are "closer" to Estonia in terms of cultural exchange?
Because of where Estonia locates, we have good relations with Finland and Scandinavian and Baltic countries. Recently our museum retrospective exhibition about Estonian born designer Tõnis Käo was shown n the Red Dot Museum in Essen. We start to have more relations also with Russia, but collaboration could be much more intense.
Could you name the most interesting recent projects where you were involved?
In 2015 during the Schmuck exhibition in Munich (which actually transformed into a real art festival — Munich Jewellery Week — with lots of activities) my colleague Kristi Paap and I have made an exhibition. It was very educating to stand next to your works and explain your ideas and listen to people reactions!
Several weeks ago, during the MJW-2016 in Munich again, we had an exhibition «Estonishing!», with 13 Estonian artists (Kadri Mälk, Tanel Veenre, Piret Hirv, Eve Margus-Villems, Kristiina Laurits, Villu Plink, Julia Maria Künnap, Nils Hint, Maarja Niinemägi, Maria Valdma, [the name is deleted in June 2022 by artist's request], Sofia Hallik and myself). Exhibition was initiated by Brazilian gallerist Thomas Cohn and curated by him together with Tanel Veenre. This was the biggest exhibition of Estonian artists during MJW.
Estonishing!, by the Gallery Thomas Cohn, Brazil, Munich Trade Fair Centre, 2016, photo by Villu Plink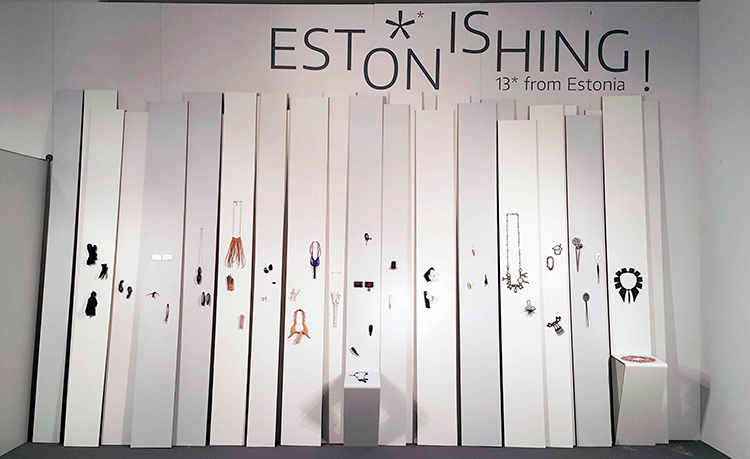 Recently Stockholm National Museum launched the contemporary jewelry exhibition "Open Space-Mind Maps. Positions in Contemporary Jewellery", curated by Ellen Maurer-Zilioli. 30 artists all over the world participated, and I had a chance to be one of them.
Open Space — Mind Maps: Positions in Contemporary Jewellery, 2016, photos by Ketli Tiitsar: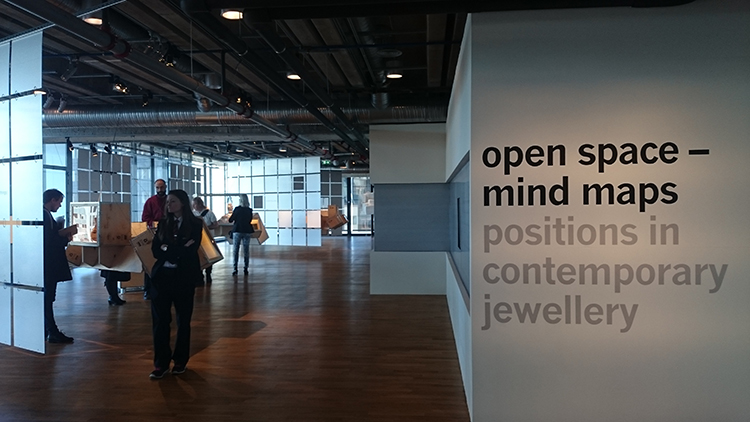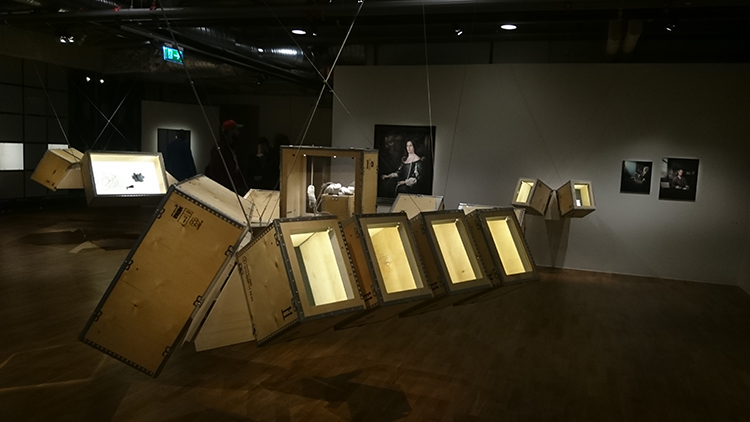 Works of (1) Ketli Tiitsar, (2) Hanna Hedman, (3) Nanna Melland:
Exhibition was accompanied by the catalogue, published by Arnoldsche Art Publishing. On press-conference there were nearly 20 journalists to whom the curator explained her positions and we as artists explained our work.
So, now we know something about the events and key players. Let's talk a little about artists and their perspectives in Estonia.
How would you characterize "Estonian creative style"? Is it more like universal, following the world trends, of more "traditional", using local history motives?
This is a hard question. Art jewelry is very individualistic, generalizations do not really work. Artists' strength is to be different, to express individual concepts by skillfully chosen materials and technologies.
If I try to find common ground, I would say that artists in Estonia often choose to work with the nature of human being, exploring its definition and how our culture affects it. There is also a unique quality of craft recognized in Estonian jewelry. Whatever materials are used, they are executed with perfectionism. Silver as material is often more used and appreciated rather than gold, with exceptions of course.
When a young artist chooses a contemporary jewelry making in Estonia, would you say he should expect lots of difficulties?
Choosing art for your profession is never easy. It may take more than 10 years after graduation until recognition comes. At the same time, today's artists get lots of opportunities to grow and get known.
There are so many possibilities to make oneself visible via good webpage, blog or facebook, instagram, why not twitter. I am not the best example, as my homepage is still under construction and I stopped blogging some time ago.
Time is the biggest problem for me. I make good plans on paper, but have no time to make them happen. So from my experience I recommend to get some professional help from someone who could do these things. There are very good examples, young artists like [the name is deleted in June 2022 by artist's request] and Sofia Hallik are both having blogs and very good representation of their work on FB.
What are the most expected challenges that young artists face?
Today's artists have to be truly clever in multitasking. They should be working continuously, also finding ways to talk and write about their ideas.
It is important to have good "documentation" about all your projects, and initiate suitable opportunities for oneself. Therefore it is essential to produce photos, find funding, organize exhibitions, presentations and talks, send out information about yourself and participate in the events, in "open calls", etc.
Another difficult part is to provide living. There are very few scholarships which could allow artists to make jewelry only. To support themselves, artists have to work hard with customers, etc. This leaves them with lack of time for developing their personal body of works.
Also, if we have had a gallery dealing exclusively with art jewelry, it would help a lot to promote the artists and their work. In Latvia there is gallery Putti, and in Vilnius — gallery A17, they both show also international artists.
I can't resist from asking some questions that started to be extensively discussed lately in Russia.
How would you state the goal and the point of contemporary jewelry art?
Art jewelry is a form of free artistic self-expression just as any form of art. The only difference from art is that it often starts with relations to body and mostly ends on the body too.
I think there is no one general rule defining what is or what is not an "art jewelry". It is often defined by artists' consistence practice in dealing with chosen concept at current time, and skillful know-how of materials and technologies needed for executing these ideas into wearable art.
Anneli Tammik, photo from facebook page facebook.com/annelitammikjewelry: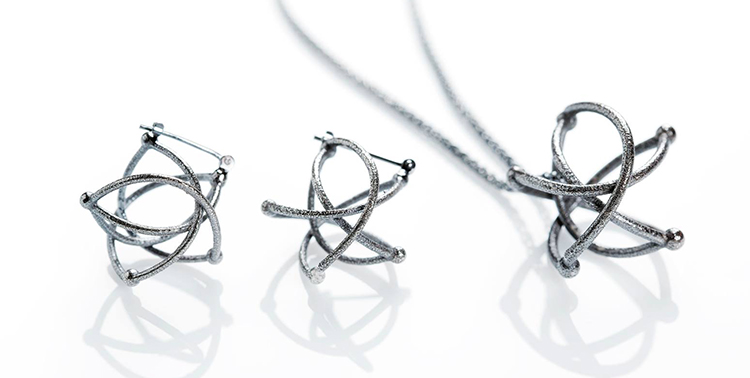 I often here how people oppose art and commerce. They say that if designer makes jewelry "for sale", i.e. more "wearable", less extravagant, he "loses himself as an artist". What do you think of it?
Most of my colleagues in Estonia and abroad do not manage to make their living out of making art jewelry. It is clear that for stability one needs some kind of job. Most artists are teaching (not only in the art schools), giving workshops or having different side-jobs.
It is not black and white like "if you choose art, you should not make more commercial things". I think it is really up to personality and abilities one can tie together. I know very good artists who do both.
I try to make things which I would not be ashamed of because I have done them for wrong reasons. This is my "pain threshold". I guess what mostly is considered as dangerous trap — trying to fulfill your customers expectations, and starting to make jewelry from the point of view of pleasing certain audience. This is perhaps already more designer-like thinking, kind of problem solving – which is quite another story comparing to art.
If the one is interested in dealing with more commercial jewelry, why not to make career out of it? Does the ultimate goal have to be art jewelry? There are so many different ways you may go, and it is only up to yourself, which path you choose.
I really want to emphasize that most of art jewelry is wearable, all my pieces are wearable.
We currently face a very time-specific confusion in terminology. When making small series of jewelry, jewelers call themselves «designers», and their works — design works. But they turn to name themselves «artists» when participating in exhibitions. This is also market-conscious thinking.
Works from the collection of ETDM:
(1) Eve Margus-Villems. Chatelaine for Helena Tulve, 2005. Horn, gold.  (2) Maarja Niinemagi. Brooch. Crest, 2011. Opal, mother of pearl, silver, gold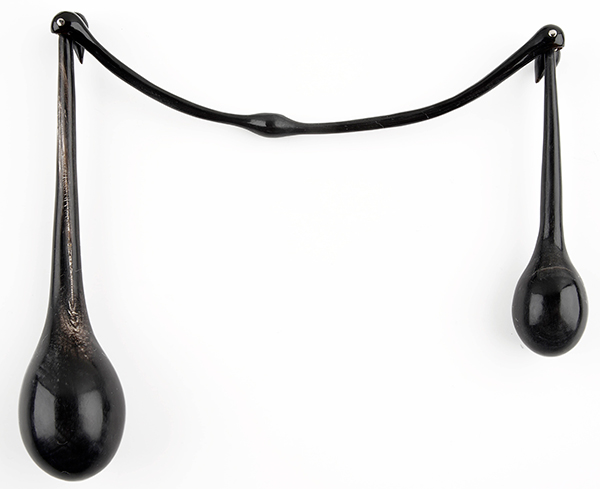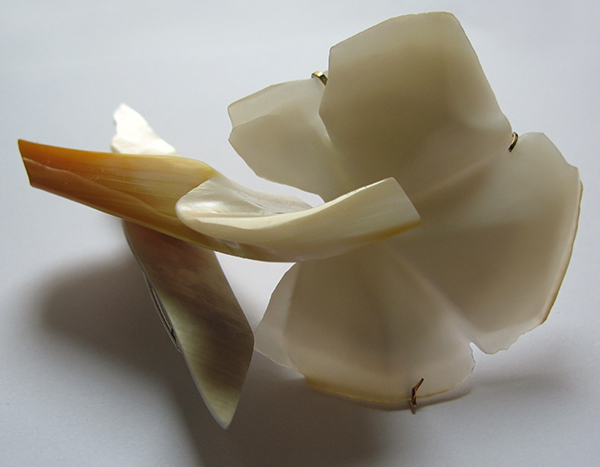 (3) Maria Valdma. Necklace. Guest House, 2011. Iron, silver. (4) Kaire Rannik. Brooch. «Inonotus obliquus», 2010. Silver, copper, rubber, charcoal, wood, steel 
Mari Relo-Šaulys / Adolfas Šaulys. (5) Object-jewellery. YES in Tallinn, 2010. Silver, gold. Photo: Sergei Didyk. (6) Object. In God We Trust. 2008. Photo: Sergei Didyk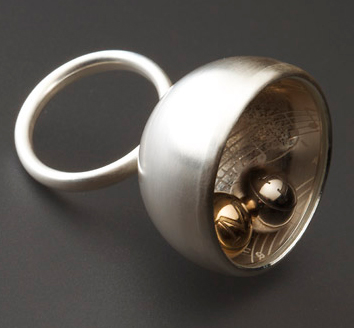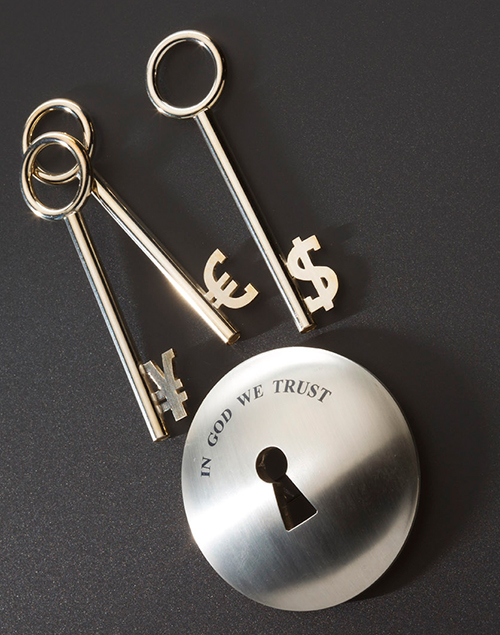 Why, would you say, jewelry is needed, having in mind those who wear it? Should earrings, necklaces of bracelets make a person "more beautiful" (jewelry pieces are stated in Russian as "украшение» — decoration, meant to decorate), or there are some other purposes that you consider important?
When we talk about daily worn jewelry in broader sense, it is mostly an accessory to complete the outfit. But jewelry may also be a sophisticated form of self-expression, telling stories about the wearer or the past or it can be personal talisman.
Jewelry brings out unique qualities of different people, beauty is just one, very subjective aspect. What is beautiful for one maybe not beautiful to someone else. In my opinion, it has more to do with fantasy and passion what can be expressed with wearing contemporary jewelry.
I always encourage people to be open and discover local art jewelry scenery, artists' concepts, movements, forms and materials it represents. Today a large number of books are available on this topic. Also websites like Klimt 02 or AJF Forum or Current Obsession Paper (current obsession magazine) have done such a good job in promoting art jewelry. Articles, interviews, image galleries are all available.
I think that since people get to know a little more, it would be almost impossible to say that art jewelry is not wearable or is only for museums and galleries — sterotypes that I hear from time to time.
Which events where you or other artists from Estonia participate should we track in the nearest future?
The beginning of this year has been very intense for myself. I made new works for three exhibitions, one of them the international exhibition "Open Space-Mind Maps: Positions in Contemporary Jewelry» that I already mentioned.
Now I am preparing my next exhibition in the beginning of the year 2017 in Tallinn, with Kristi Paap. This exhibition will kind of close the series of exhibitions "Nature Morte. Cherries and Skeleton" we have held together. Majority of works in next year exhibition will be new.
We also published a book under the same name, about the process of our collaboration as well about our previous works dating back 5-7 years. From now on we will introduce the book, sending it to people who have preordered it.
Nature Morte book. Released on 2016. All photos by Dénes Farkas: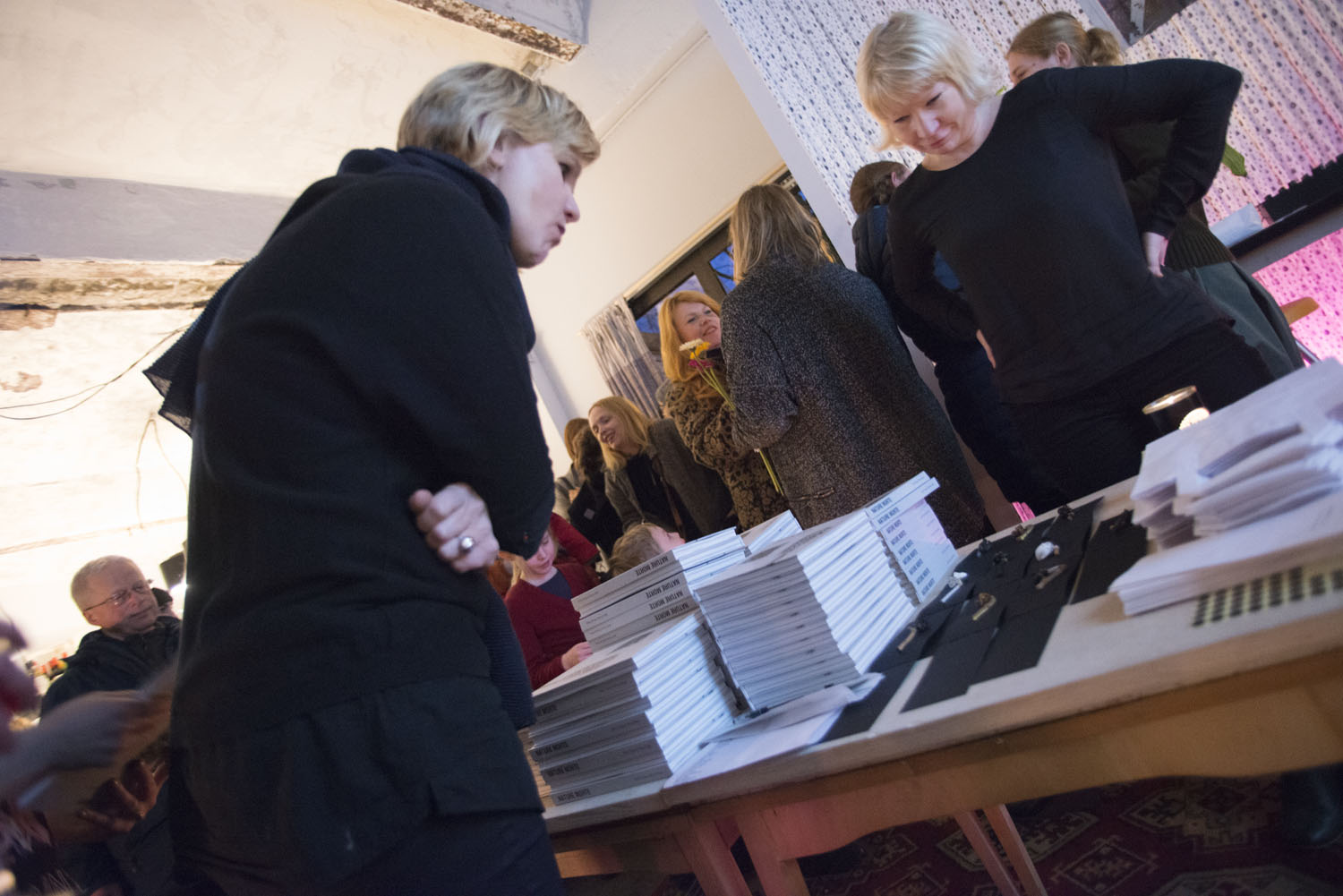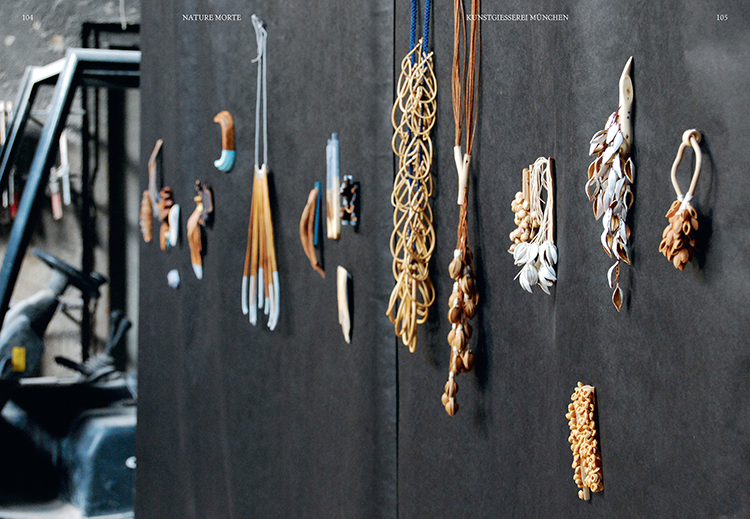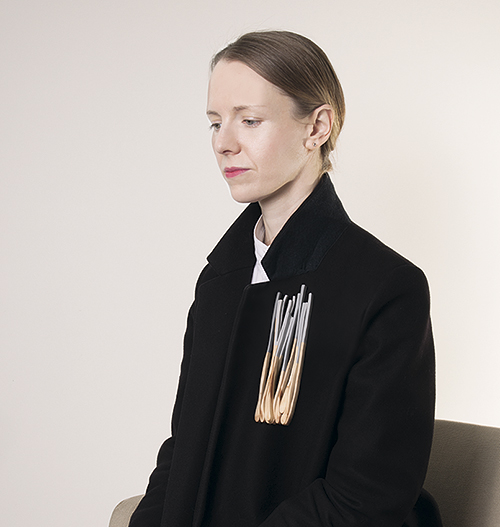 In the museum we have very busy year preparing new permanent display of Estonian applied art, I am a project manager. Long preparatory process took three years. Hard part of fundraising is behind, and construction works started already in January. The ambitious display is like a new house inside the museum building, architecture by Karli Luik. After complicating lighting project we can start displaying art objects. I am looking forward to the opening, this is so important for the museum and for all the artists we have in the collection, to display their wonderful work and to give accessibility to the history of Estonian professional applied art.
The exhibition "Estonishing" will travel to Brazil in May and will be presented in the Gallery of Thomas Cohn in Sao Paolo.
While visiting Tallinn, it is always worth of checking the exhibitions in A-Gallery Vault as well as in Hop Gallery.
I am also dreaming of a week off, to spend with my little family — we have an eight year old daughter. As most of my work in the studio is done during the late evenings and nights, as well as during the holidays, including Christmas and Easter, when I am off from museum. I wish to have more time to spend with them.
Taking into account your personal and professional experience, would you like to wish anything to beginners – jewelry artists who start their career in any country?
Stay focused. Try to use your studies for getting to know yourself and your personal strengths. Start  building up your own unique way of expression. Talk to your friends and family about what you are thinking and making, their support is important!
Take into consideration from the very beginning that there are already many good artists in the field. When you get negative feedback, are not chosen to exhibition or do not get always funding, etc.- this does not mean the end of the world. Learn from it, try again, just go on — if this is the direction you feel you want to work on.
I find it important to have an awareness of art history, as well as what is going on in the world and culture,  in the contemporary art world in general. Do not be afraid to be different and deal with themes whatever you find interesting. And — enjoy it!
Работы дизайнеров из каталога ЮВЕЛИРУМ